Over 300 year since establishment
having devoted earnestly and growing together
with the history of Nagasaki
History of Shooken started in 1681, Edo era. Sadasuke Yamaguchi founded a shop and started selling candied fruit and Castella.
Around 300 years later, when 7th generation Kumakichi, who was good at decorated sweets,
Hirotari Nakajima (Classical Scholar) named our shop as "Shooken" and set "Okina Noh" mask as our shop sign.
History of Shooken is just same as of history of Nagasaki Castella.
We are looking forward to seeing you at our shop.
What's Special in our Castella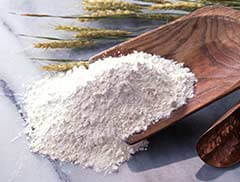 We use special flour which has rich water retention to make soft and mellow texture.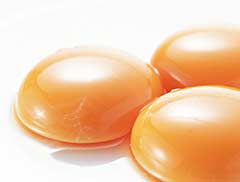 Eggs are delivered every morning from a local farm in Shimabara, Nagasaki.
The eggs are controlled strictly not only in its freshness and taste, but also in its temperature and color of York.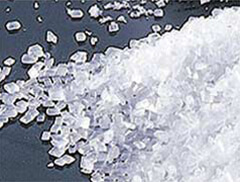 Zarame (Granuted Sugar) is inevitable ingredient of Castella, and hi-purity zarame makes refined sweetness. We bake Castella "with" zarame sugar. You also can see zarame sugar under our Castella.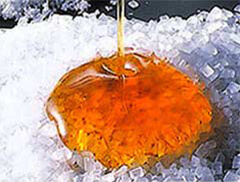 Our Syrup is made in Japan. It helps in making batter softer and batter's aging.
Castella used to be kind of bread when it was introduced however, with Nagasaki people's improvisations current fluffy Castella is invented.
What's Special in our Castella Bakers.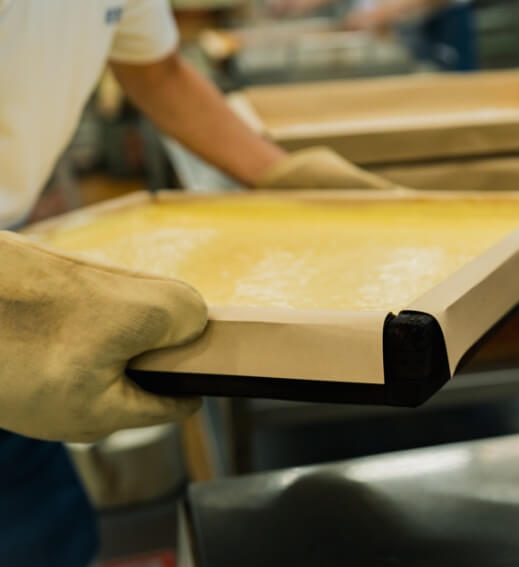 Hand-baked castella of Shooken

We follow the traditional process in making castella and also made improvements to it.
We bake one tray of castella at a time to achieve high quality.
Process of making castella is simple but taste of Castella changes depending upon the weather and temperature,
in order to provide constant authentic taste our bakers do adjustments in the process.
Taste of Castella is made with baker's skill and intuition, and sincere heart towards castella.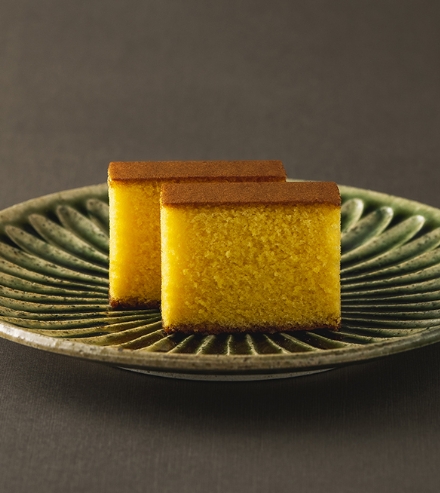 Shooken Go-San Yaki
In Edo-Era, luxury castella was named 'Gomi-Castella'. From Meiji-Era people started to call it 'Go-San-Yaki Castella', which is made of more yellow egg (less white egg), more sugar. It tastes thicker and softer compared to normal castella. Please enjoy Go-San-Yaki at our shop.
Shooken Castella
As gentle as silk, tastes soft and sweet.
Please enjoy Shooken Castella.
○Nagasaki Castella is known for Zarame sugar beneath it, however Castella of Shooken is baked 'with' Zarame sugar.
Please enjoy soft and melting texture of Zarame.
Macha Castella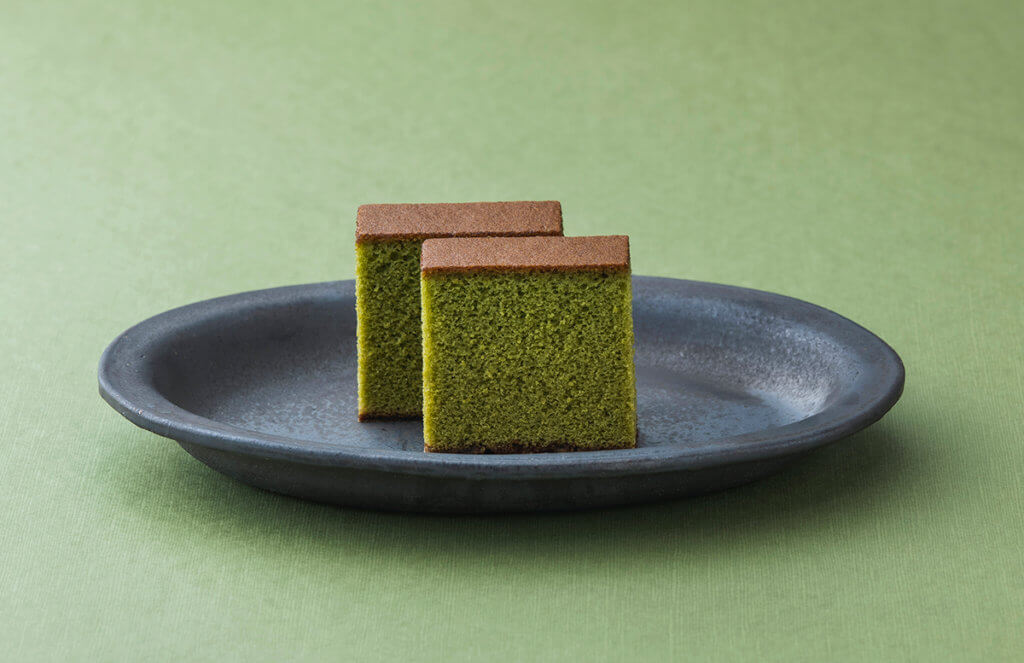 Scent of Japan, Scent of Matcha
We add Hikicha(Macha, Green tea) in the batter, Macha Castella is hand made one by one. Hikicha batter is difficult to bake because of the addition of hikicha. It requires high skill and experience to bake hikicha batter. Please enjoy scent of Hikicha and also original color of green tea.
○To make dense taste, we blend Gyokuro and Sencha from Uji in Kyoto, one of the popular places known for green tea. The tea leaf is grinded gently in stone mill without heating, so that our green tea powder scents nicely.
* Gyokuro and Sencha are types of green tea.
Chocolate Castella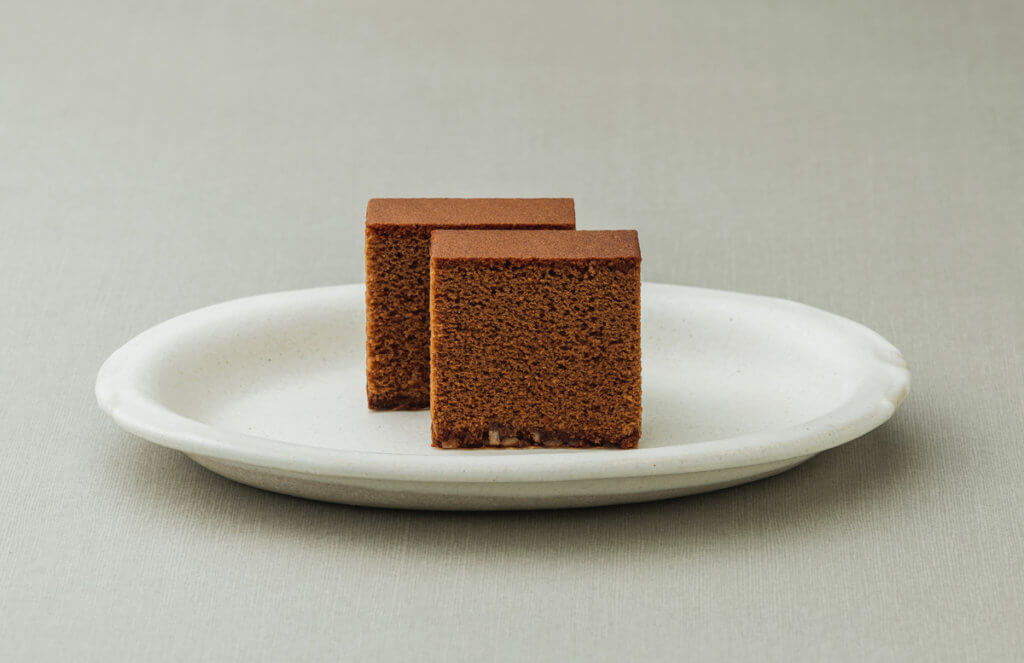 New taste made from fusion of elegant Castella from Japan and modern chocolate from Western culture.
Custom ordered board chocolate is not simple to be mixed in the batter unlike powder. Also chocolate contains oil content, baking chocolate Castella requires high skill and experience.
Please enjoy our Chocolate Castella handed down since Meiji Era.
○Because we custom order chocolate suitable to our Castella, we could make dense and mellow taste.
Shop Location
The shops are located in exotic places in Nagasaki, in rich natures and various kinds of historical heritages.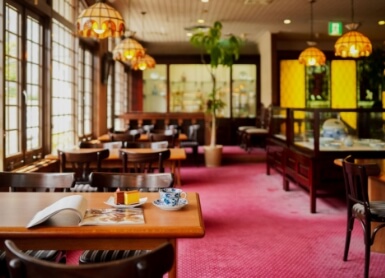 Main Store / Café Sevilla
Address:3-19, Uonomachi, Nagasaki-city,NAGASAKI
TEL: +81-95-822-0410,+81-120-150-750
Shop opens:
Shooken / 9:00 AM – 8:00PM
7days a week
Café Sevllla / 11:00AM – 7:00PM 7days a week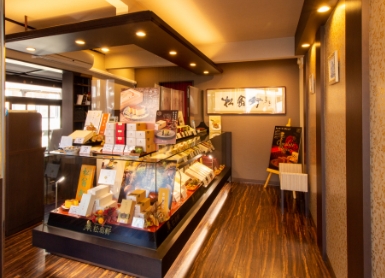 Address:2-40, Matsugae, Nagasaki city,NAGASAKI
TEL: +81-95-828-0835
Shop opens:9:20AM – 6:00PM
7days a week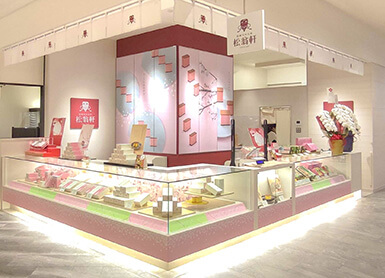 Shooken Nagasakikaidokamomeichiba shop
Address:1-67 Onouemachi, Nagasaki City, Nagasaki Prefecture
TEL:+81-95-893-5517
Shop opens: 8:30AM – 8:00PM  7days a week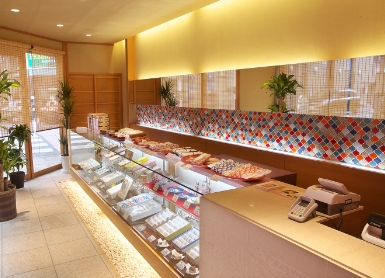 Shooken Kanko-Dori Street Shop
Address:5-6, Yorozuyamachi, Nagasaki-City,NAGASAKI
TEL:+81-95-828-1155
Shop opens:10:00AM – 7:00PM 7days a week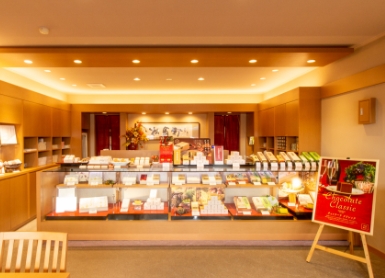 Address:5-1-22, Nameshi, Nagasaki City,NAGASAKI
TEL:+81-95-857-1263
Shop opens:9:30AM – 6:30PM  7days a week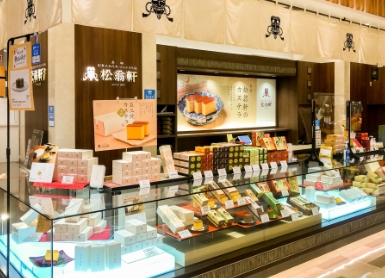 Shooken Hakata station Maing store
Address:1-1, chuougai,hakata station ,Hakata-ku, Fukuoka City,FUKUOKA
TEL:+81-92-452-7756(Direct)
Shop opens: 9:00AM – 9:00PM